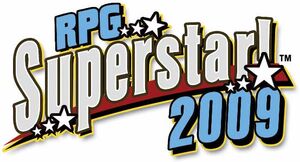 RPG Superstar returned in 2009 with a similar competition to the previous year. The contest, designed to find new RPG design talent from a pool of hundreds of prospective candidates, was judged by Wolfgang Baur, Clark Peterson, and Sean K Reynolds with guest judges including Monte Cook, Ed Greenwood, James Jacobs, and the top four contestants from the previous year.[1] Based on judge reviews and public discussion, public voters selected the Top 16, 8, 4, and winner out of the Top 32 entrants to submit a wondrous item for consideration in round 1.
See also: RPG Superstar
Neil Spicer was declared RPG Superstar on March 24, 2009. His proposed adventure, Realm of the Fellnight Queen is scheduled for release in February 2010.[2]
The Top 4 contestants were announced on March 3, 2009. Each entrant submitted an adventure proposal for public voting to determine the winner of the contest.[3]
The Top 8 contestants were announced on February 17, 2009. Each contestant submitted a villain's lair with map for another Top 16 contestant.
| | |
| --- | --- |
| Joshua Blazej | James F.D. Graham |
| Randy Dorman | Trevor Gulliver |
Due to a tie, there were actually seventeen contestants in the The Top 16 this year, chosen by the voting public from the Top 32 villain concept entries. The Top 16, announced on February 3, 2009, each submitted a statblock for their concept from the previous round.[4]
Matt Banach
Vladislav Rashkovski
Joao Beraldo
Philip Snyder
Carl Klutzke
Doyle Tavener
Jacob Manley
Mark Thomas
Eric Morton
Of the hundreds of contestants who submitted wondrous items for round 1 of the contest, the following contestants were selected as the Top 32 entrants. Announced on January 20, 2009, each of these contestants submitted a villain concept for public voting to determine the Top 16.[5]
Gerald Andrews
Elizabeth Leib
Carl Flaherty
Matthew Morris
Kurald Galain
Jeffrey Scott Nuttall
Craig Johnston
Stefan Schulz
Andrew Judd
Mike Speck
Lucas Jung
Victor Spieles
Casey Smith
Paul Worthen
Wesley Lee
External links
Edit
References
Edit