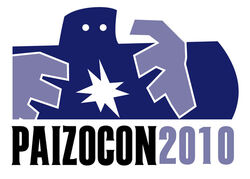 PaizoCon is a gaming convention centered around the works of popular publisher, Paizo Publishing, held annually in June.
2008
[
]
Originally planned and coordinated by Tim Nightengale as a fan gathering, the first PaizoCon was held April 26-27, 2008 at La Quinta Inn in Bellevue, WA. Paizo staff and special guests, like Open Design publisher Wolfgang Baur ran demo games and participated in panel discussions on the future of Paizo and the industry as a whole. PaizoCon I had an intimate atmosphere, as attendance was limited to only thirty people.[1]
2009
[
]
After the smashing success of PaizoCon 2008, Paizo Events Manager Joshua J. Frost took over coordination of the sophomore convention and Paizo officially sponsored and ran the three day event from June 12 -14, 2009 at the Coast Hotel in Bellevue, WA. In addition to the full Paizo staff, guests included RPG Superstar finalists Neil Spicer, Clinton Boomer, Rob McCreary, and Jason Nelson, Monte Cook, illustrator Eva Widermann, and freelance contributors Michael Kortes and Greg A. Vaughan. Friday night featured a special Pathfinder Society interactive, entitled "Grand Convocation," and Saturday night held a banquet reception wherein Jason Bulmahn previewed the forthcoming Pathfinder Roleplaying Game Core Rulebook and Paizo held a trivia contest. Attendance in 2009 was roughly 250 guests—an exponential increase from the previous year—but the event remained personal and intimate and was generally well received by all parties.[2]
2010
[
]
PaizoCon 2010 is set to be even larger than the previous year, with a maximum of 500 guest badges. Announcements are still forthcoming, but the event is scheduled for June 18-20, 2010 at the same location as 2009: the Coast Bellevue Hotel.
External links
[
]
References
[
]